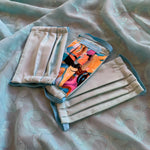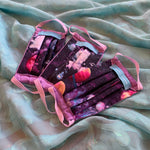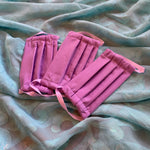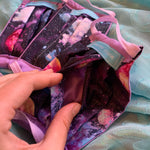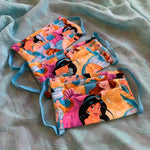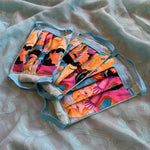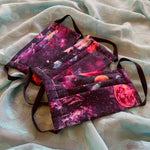 COVID-19 Fabric Face Masks - 3 Pack
For every 5 masks purchased, we'll be donate one to healthcare workers on the front lines. 

Made with love & purpose in New Orleans, LA. As the CDC is now recommending we wear face masks out in public - we are using fun prints & cotton fabrics to make these limited edition face masks for you. Each batch of masks will have a unique combination of prints and colors as we try to make cute inner & outer fabric pairings and have a lot of patterns to choose from, so we will be making new batches fairly frequently. This is a non-medical, reusable mask with elastic straps and a pocket insert for a non-woven, breathable liner. 
Reusable. Washable. Covers your Entire Nose & Mouth.
Some best practice info to keep in mind:
Wash mask before wear.
Wash your hands before putting on your mask and after removing it.
Make sure the mask fits snug on your face without any gaps. 
It's still best practice to not touch your face when wearing this or other masks. Try not to mess with it once it's on.
This mask is not advised for people caring for someone with actual symptoms. 
Please maintain 6-8 ft distance at all times.
Wash/sanitize the mask after each wear. 
For every 5 masks purchased, we'll be donate one to healthcare workers on the front lines. 
filters (non-woven vacuum filter bags) can be added to purchase - masks are recommended for filtration but also as a method to get people to stop touching their faces as much as that's one of the main ways the virus is spread.
 As each batch of these masks will vary so much & as unique as they are, the back fabrics might not be exactly the same as the photo (ie: there are some princess masks with lavender backs, some with aqua, etc). If there's a specific back/front combination you'd like, mention it in the notes section and we'll do our best to accommodate requests as long as supplies last!