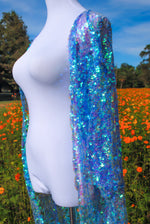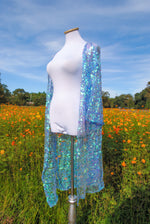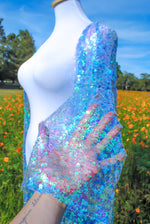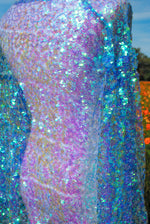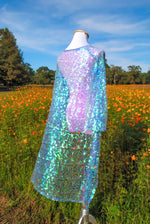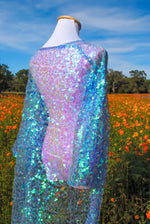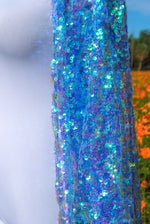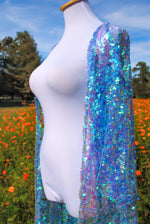 Blue Moon Quartz Geode Kimono
This product is currently out of stock and unavailable.
This show stopper will turn you into an instant disco ball! Gorgeous unicorn hued sequins with an ocean blue thin mesh background make for a kimono with awesome movement and the perfect amount of sparkle and will instantly light up an outfit. Easy to layer on top of bodysuits, separates, swimsuits, and costumes for extra shimmer or extra warmth, these Geode Kimonos will impress mermaids, unicorns, and fairies alike and shifts between iridescent blue, pink, lavender, green, and aqua in different lights. The blue & iridescent rainbow hues of this sparkly piece pair perfectly with the rest of the Moonstone & Amethyst Aura bodysuits and separates and Blue Opal accessories from the Opal Auras collection and any Unicorn colored pieces. 
The base fabric on this piece is very thin but has a nice stretch & weight to it with the sequins. Please refer to the photo with the hand to see the transparency!