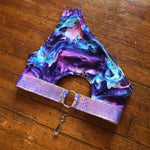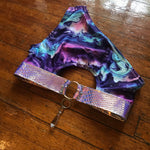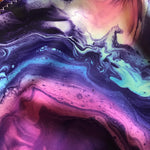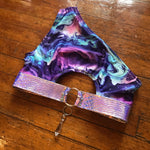 Amethyst Moon One Shoulder Harness Top - M
This product is currently out of stock and unavailable.
Stand out among the crowd with our stunning Amethyst Moon One Shoulder Harness Top! This piece features a beautiful purple and blue marble pattern spandex, an underboob cutout, a blue opal pleather band around the bottom with  silver o-ring accents for a dash of edge. The peekaboo detailing on the front is carried through to the back, where the pleather ends with an O-ring closure on each side.  Silver AB rhinestone rivets add strength and the top is adjustable with elastic ties to fit you just right! We can't wait to help you sparkle!!
Matches perfectly with our Amethyst Moon bottoms