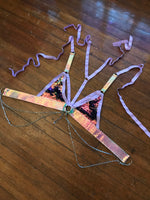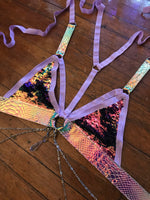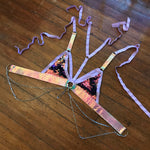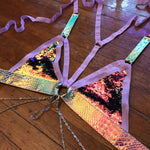 Lavender Mirage Convertible Harness Triangle Top - S/M
This product is currently out of stock and unavailable.
Turn heads in this showstopping top that can be worn in so many different ways! This piece features a beautiful black spandex with a gold shimmer, black/gold metallic elastic trim, holographic gold pleather with a scale pattern, and gold o-ring accents for a dash of edge. On this style, chains drape on little clips and can be worn a number of ways, adding some movement and flash! As always, this top is incredibly comfortable and adjustable with elastic ties to fit you just right - they can be tied at the neck like a halter or cross over the back and tie! We can't wait to help you sparkle!!
This top is made from our reversible sequins - although they are stretchy, they're not quite as stretchy as our spandex fabrics! This is a M, but fits more like a S with this sequin fabric, hence the half size :)