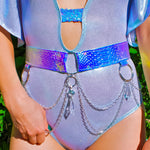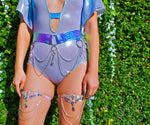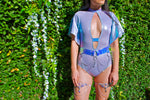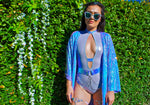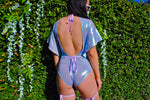 Blue Opal Crystal O-Ring Belt | MTO
This is a made to order item, meaning it will ship out in 3-4 weeks!
Our Crystal O-Ring Belt instantly adds movement & sparkle to your festival or rave outfit! This belt features sturdy O-Rings with our vegan blue opal iridescent pleather that shifts from light blue, aqua, lavender, light pink, and periwinkle in the light, finished with iridescent AB rhinestone rivets to add strength to the closures and some extra sparkle. Silver chains with drop crystal pendants drape from the front to back for some elegant movement and are secured with our super strong chainmail jump rings to make sure everything stays put. This belt is easy to layer and is the sparkly cherry on top of any outfit, adding the perfect amount of sass and shimmer and keeping your harness looks cruelty free! This color of harness pairs perfectly with our Moonstone Aura tops, bottoms, bodysuits, and kimonos.
Belt ties in the back and is adjustable to fit a variety of sizes :)
 All of our vegan pleather harnesses are sewn for extra studiness and fortified with iridescent AB rhinestone rivets in a silver setting - using this process of riveting puts less stress on the pleather & O-rings and creates a much stronger connection than sewing the O-rings in. We use solid steel metal O & D rings, glass crystal accents, and have recently upgraded to the sturdiest jump rings available (made for chain mail!) to create a high quality product we're proud to have created after years of tweaking.
This is a made to order item, meaning it will ship out in 3-4 weeks!