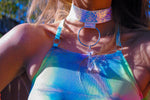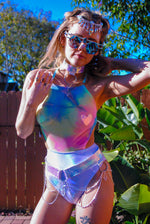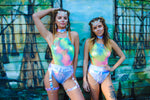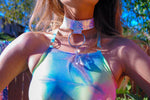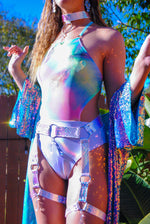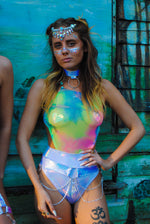 Unicorn Opal Crystal Choker
This product is currently out of stock and unavailable.
 Our Unicorn Pleather Crystal Chokers are the perfect cherry on top to any outfit! The band is made with our vegan pleather iridescent textile which shifts from white, pastel pink, and light blue as you dance and looks perfect paired with silver O ring and crystal. This piece is perfect layered over any body suit, top, dress, pasties, or absolutely nothing depending on your preference! 
 All of our vegan pleather harnesses are sewn for extra studiness and fortified with iridescent AB rhinestone rivets in a silver setting - using this process of riveting puts less stress on the pleather & O-rings and creates a much stronger connection than sewing the O-rings in. We use solid steel metal O & D rings, glass crystal accents, and have recently upgraded to the sturdiest jump rings available (made for chain mail and measuring in at a 14-16mm gauge) to create a high quality product we're proud to have created after years of tweaking! 
         
This piece is adjustable with elastic straps and can fit a number of shapes and sizes! If you have any questions about fit or think you might need a slightly larger or smaller size than our O/S option, please leave a note at checkout (or contact us beforehand if you have a question) with your 
- neck measurement