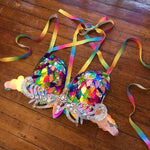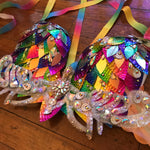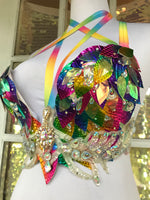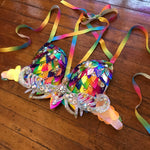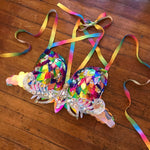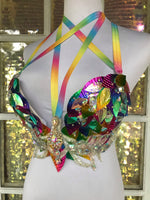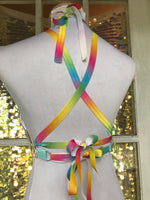 Rainbow Plunge Bra - 32A/34A/32B
This product is currently out of stock and unavailable.
This is a premade design that is ready to ship!

This gorgeous rainbow & iridescent bra is absolutely mesmerizing! Each scale is a gorgeous hand cut scale made with our vegan pleather and placed to create a stunning silhouette. Embellished with hand-cut sequins and iridescent crystals for the perfect amount of sparkle. Why wear just one color when you can wear them all!? Depending on the lighting, this piece shifts between all the gorgeous hues of the rainbow, complete with a sheen on top. The piece is finalized with rainbow harness detailing!